Lady in Red Purse for any occasion
The shimmer of copper combined with black and the beautiful upholstery remnant fabric create a snazzy looking purse for either everyday or more festive use.
The handcrafted Lady in Red Purse utilize high quality upholstery remnant fabrics. The Purse is available in two different patterns – the Lady in Copper and the Lady with copper colored Butterflies. Inside you will find a black cotton lining, and a small inner pocket to ensure your belongings stay organised.
This Lady in Red Purse was inspired by its namesake Rooibos from Teeleidi (a Teahouse in Jyväskylä) and its georgeous package covered with the marvellous photo taken By Emmi. The beautiful coppery red upholstery fabric that I managed to receive a few remnant parts accompanied with sturdy black cotton fabric create a perfect background for the lovely Lady pattern.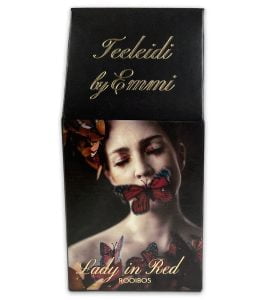 ---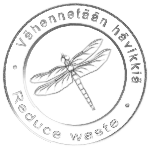 By utilizing the remnant fabrics from furniture upholstery as a material of bags and purses, the forming of waste and the environmental pollutant load are being reduced. Dragonfly Collection provides the beautiful, high quality upholstery remnant fabrics, the valuable continuation in their lifecycle.
---
Materials:

Surface: upholstery remnant fabric, viscose thread, metallic thread (metallised polyester), metal parts
Lining: cotton fabric
Strap: polypropylen, metal parts

Size:

Purse: approx. 25 x 20 cm
Frame: approx. 16 x 6 cm
Strap: adjustable, max. length approx. 120 cm
---